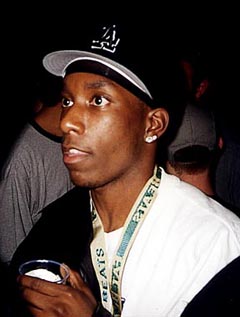 I'm gettin' stacks while you askin' people, do you want fries with that?
This quote is just one of the many ill lines that Big L blessed us with during his 24 years on Earth. It's unfortunate that so many talented musicians in the world of Hip Hop have passed on. Obviously everyone knows about Biggie and 2Pac, but let's not forget about Jam Master Jay, Big Pun, Ol Dirty Bastard, Proof, and J Dilla among many others. Big L was shot to death in own neighborhood, rumored to be the result of a longstanding drug feud between his brother and a rival gang member.
That said, L's life should be celebrated for the excellent music he made while he was alive. Lifestyles Ov Da Poor & Dangerous, and The Big Picture are both great albums and I urge you to give them a listen if you haven't already. Some other tracks to check out are his legendary "98 Freestyle," "Ebonics," and "Put It On." Below, I've posted the official video for "Holdin' It Down," but unfortunately it's censored, so to get the full effect I recommend you search for the dirty version.