As much as every Kid Cudi fan was excited for Man on the Moon: The End of Day, I could probably say I'm anticipating the Cudder LP ten times more. I'm about as excited for this as I originally was for The Clipse's
'Til The Casket Drops
. In an interview he did with MTV News, Cudi talks about the album, saying "It's gonna be the complete opposite of what
Man on the Moon
was.
Man on the Moon
was so serious. This one is gonna be more playful and fun. It's about having a good time."
This makes me especially optimistic because I'm hoping for Cudi to take what originally attracted me to him, his impressive mixtape catalog, and use that same upbeat and progressively flow he has to the next level. According to Cud, he has already lined up Snoop Dogg, Travis Barker, The Clipse, and Pharrell for the album, and I'm sure we can expect some involvement from Kanye - be it with a featured verse or production. He also mentions that he was looking to involve
Green Day and Kings of Leon
, as well.
Until then, we can only hope that he continues to release freestyles and features for all of us to enjoy alongside his mixtapes and album. A few days ago, he put out this freestyle over Vampire Weekend's
Ottoman
. The name Cudderisback is misleading though, because the creative Cudi never left.
Kid Cudi - Cudderisback
Cudi was also recently featured on the G.O.O.D Music remix of Consequence's Whatever U Want. The remix features a line-up of artists from Kanye West's G.O.O.D. Music label, and they all showcase their individual skills on the track.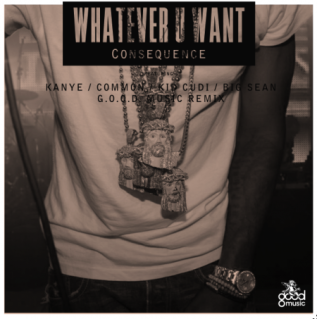 Cosequence ft. Kid Cudi, John Legend, Kanye West, Big Sean, Common - Whatever U Want Remix
Expect the
Cudder LP
to be released by summertime, 2010.