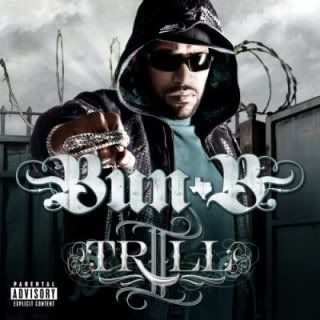 Alright, so I was home for break and didn't have internet, but lucky for us Mr. Evans has been keeping up with the site. Now that I'm back, it's time to get back to work. I was just recently listening to Bun B's
II Trill
album, his second studio album. The record is solid almost all the way through - a couple tracks that got radio play and many others that didn't but lyrically were excellent. This album was released after the passing of
Pimp C
, so you can hear Bun's message to his late partner as well as other tracks pertaining to social issues Bun takes up and some standard tracks documenting the southern lifestyle.
My favorite track on the album was Swang On Em with Lupe Fiasco. I love how Bun and Lu are two very different rappers but they mesh so well together on this heavy bounce track. Lupe really impresses me rapping about growing up on southern rap alongside a southern great like Bun. His verse does nothing but add to the track.
Another great track was the second single off the album. You're Everything was an ode to the late, great Pimp C, Bun's other half of UGK. His passing left something missing in the southern rap world, which you can see by the features of Rick Ross, David Banner and 8 Ball and MJG.
A third track I'm going to feature is Damn I'm Cold. I have my qualms with Lil' Wayne, but I enjoy hearing both him and Bun on a track together. The beat is dope and both of these respected artists really go in.