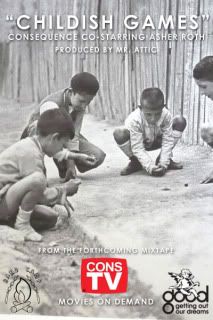 In one final post today, I wanted to share the newest track from G.O.O.D. Music's Consequence. He did it big with
Whatever U Want,
and he will be releasing his next mixtape project
ConsTV Presents... Movies on Demand
which is said to drop sometime in February.
The recent track is entitled
Childish Games
and features a verse by Asher Roth, as well as a sample of the Notorious B.I.G. The track depicts the problems with the fakeness of the world and the industry, and how it needs to stop. It's great to see Consequence keep doing his thing and I'm glad he got my man Asher on the track since I haven't heard anything from him since the drop of his under appreciated album
Asleep in the Bread Aisle
.
You can hear the track below, see behind the scenes footage of the video
here
, and check out the G.O.O.D. Music remix of
Whatever U Want
on this
previous post
.