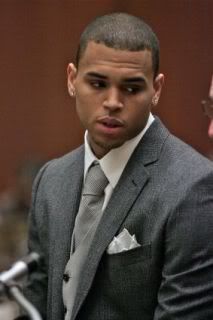 As much as his fan base as fallen, Chris Brown is back to bring the masses another album, but I'm sure there are still some fans out there, contrary to popular belief. Regardless of his past, I can see his new single getting it's fair share of radio airplay. The album,
Graffiti
, is expected to come out sometime early 2010, but the first single
Transformer
has already been released.
The new single will mark CB's return to the biz since his incident with then-girlfriend Rihanna. I guess he's not only on his studio grind but bangin out his six months of community service as well. This tracks roster is strong, with Lil' Wayne doing his thing and Swizz Beatz coming with it on the production, and my first impressions are positive. It's an upbeat track that I could definitely get down to on the dance floor.
"Swiss on the Beat, Chris move ya feet, and we can transform a good girl to a freak."
Without further ado:
Chris Brown ft. Lil' Wayne, Swizz Beatz - Transformer