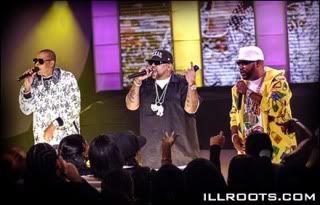 One of my friends recently showed me a vintage video of Jay-Z in the studio with Timbaland. Timbo is showing Jay some tracks he made, and when he first gets to listen to what would be the
Brush Your Shoulders Off
beat, he knows it's gonna bump. He goes to work in the studio and the end result is what we know today. You see the work that an artist puts in to create a successful track.
Soon after seeing this video, I had my iPod on shuffle and came across Bun B's
The Story
. In part of the song, he raps about working with Jay on
Big Pimpin'
and what it was like to get a taste of the industry. This song was on Bun's debut album
Trill
. He talks about the ups and the downs of the industry, and how UGK went about it their own way - keeping their fan base happy.
Bun B - The Story