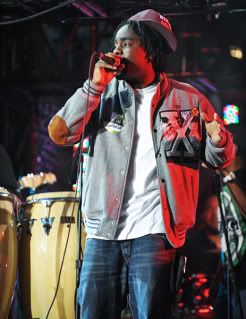 For any of you that caught the VMA's a couple weeks ago, you may have noticed one of the hottest newer emcees ripping up the set during commercials. Freshly dressed and lyrically inclined, Wale has been peaking the attention of many, and had his first national recognition with the song
Chillin'
with Lady GaGa. Soon enough, he will be gracing us with his first studio album, Attention Deficit, on November 3rd, which I am definitely looking forward to.
His music just always has a flare to it and the beats just get listeners lifted. I recently just heard one of the newest songs to be released, entitled Bittersweet.
Wale ft. Colin Muroe - Bittersweet
The song has a pretty dope sample of he Verve's
Bittersweet Symphony,
and I think it works because Wale goes hard over slower beats, like in
Ice and Rain
.
The track features Colin Munroe on the chorus, a talented producer and singer making his way out of Canada. The first I heard from him was a remix he did to Kanye's
Flashing Lights
. The video made a splash a while back on the internet.
Colin Munroe - I Want Those Flashing Lights
Another amazing track that Colin is featured on is a collaboration with Joell Ortiz, an amazing lyricist and one quarter of the hip-hop supergroup
Slaughterhouse
, which is off his
Colin Munroe is an Unsung Hero Mixtape
. Each artist individually does his thing - Colin brings out his story through his words and Piano playing while Joell goes in on the beat and doesn't leave much more to be wanted.
Colin Munroe ft. Joell Ortiz - Piano Lessons
Each of these tracks are bomb in their own respect. Enjoy them until there's more to come.