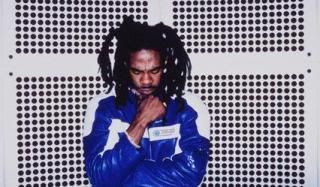 Busta Rhymes has been making some recent contributions to hip-hop, most notably on Chris Breezy's
Look At Me Now
track, where Chris tries his hand at rapping. Busta starts his verse by telling Chris "let me show you how to keep the dice rolling when your doing that thing over there."
It's amazing the resilience you see in older rappers like Busta Rhymes and
Jay-Z
for example. Busta is still spitting in the same fashion he was in 1997 when
When Disaster Strikes
dropped. The track
Put Your Hands Where My Eyes Can See
was the lead single off the album eventually was nominated for the Grammy Award for Best Solo Rap Performance.
The sampling for the song came from
Sweet Green Fields
by Seals & Crofts and is transformed into the tribal-centric video that was inspired by Eddie Murphy's
Coming To America
.